RadeonPro has not been updated since April release, but it's for a good reason! Since June I've started developing the next RadeonPro, a major update to the almost 3 years old tool.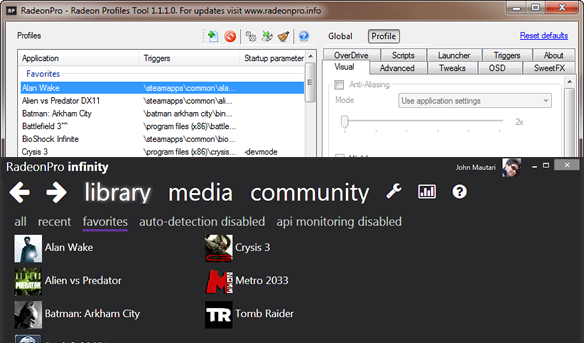 Curious about what to expect from infinity? Read on!
New and improved features
Completely redesigned UI.
New profile management with master (template) profiles, meaning you can create a template profile (let's say SMAA Ultra and DVC is active) and name it like SMAA+DVC, after that it's possible to assign those template profiles for any game profile that will inherit all settings from the master profile along with own game profile's settings.
New profile assignments: a profile is no longer linked to an executable like in RP 1.xx making possible to share a single profile among several games.
Improved monitoring now catches games executed as admin so games started by launchers with elevated privileges will also be detected.
Movie recording function does not lock the framerate automatically so it's possible to record at 30 FPS and still play at 60 FPS.
CPU clock/temperatures/load(%) and RAM usage can be displayed in OSD.
Improved media organization: movies, screenshots and benchmarks are now categorized and grouped by game and can be browsed and viewed right from infinity's UI.
Cloud storage functions allow easy sharing of screenshots. Also, all games profiles can be uploaded to the cloud and can be synchronized with other computers owned by you.
The RadeonPro Support Service is no longer used.
Stuff going to be added soon
Mobile app with complete monitoring: FPS and GPU/CPU monitoring + graphical charts of current running game.
Live adjustments of post-processing effects including SweetFX settings using the app. Users will also be able to download profiles made available from other RadeonPro Community users and apply those profiles from the app without leaving the game. Of course not all settings can be applied without a game restart, but most post-processing effects will be in effect right after the profile is loaded up from the app.
Movie recording with real time AVC/H.264 encoding by GPU using AMD's VCE (up to 1080p) – I already got the encoding working on GPU and it's fast, but need to change the container format to MKV as AVI doesn't play well with AVC/H.264 and that should take some extra time. About VCE, the only downside is the encoding size which will be limited to 1920×1080 and that's a bit sad…
Live adjustments of post-processing effects via infinity's in-game overlay.
Please bear in mind that all this must be considered work in progress and probably will change a bit before public release (and there's no ETA for it at the moment)
Want to know when infinity gets ready? Follow RadeonPro on Twitter, Facebook or RSS
Updated 10/31: What happened to RadeonPro?