Simple, easy to use user interface with Windows 7 support
The program interface is simple and intuitive, separating settings in groups for easy configuration and visualization. The interface is also enhanced for Windows 7 and fully use new features like Jumplists.
Profile List
Create individual profiles for your games with best settings for each one. The settings are applied as soon RadeonPro detects the game starting, automatically.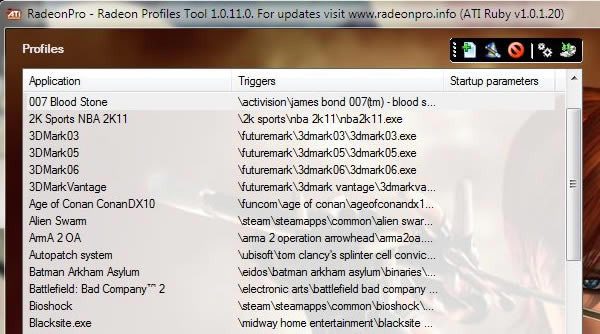 Basic Controls
Easy access to basic image quality settings, like Anti-Aliasing level and mode and Anisotropic filtering. There are balloon tooltips for each setting as you hover the mouse pointer over the options on screen.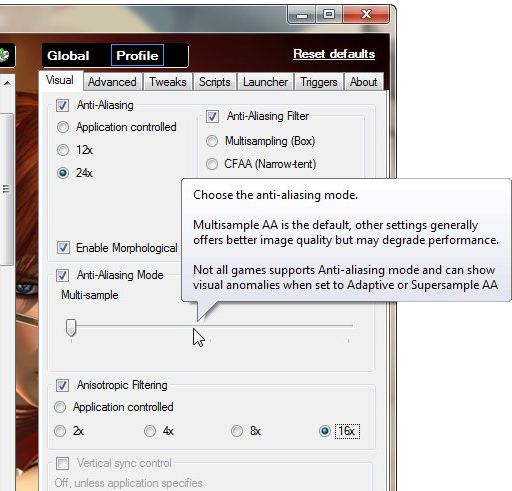 Advanced Controls
Access to advanced driver features, like Anisotropic optimization, Surface Format optimization, Texture LOD (Level of Detail) and Flip Queue Size settings.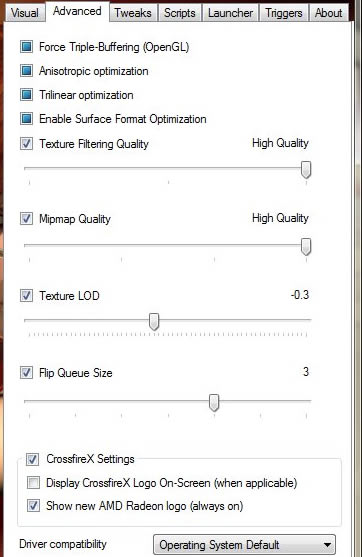 Tweaks
RadeonPro features options to control vertical synchronization, triple buffering, forced monitor refresh rate, along with exclusive features to force Anti-Aliasing or CrossfireX on games not supported by the video driver.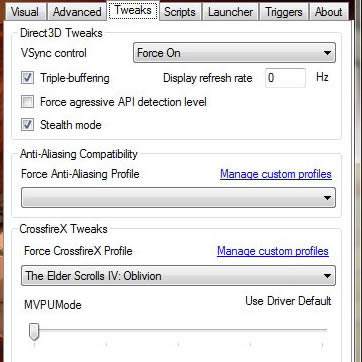 Advanced Tweaks
There are options to control CPU affinity and process priority, you can even override your video display adapter identifier to make your game think the image is being rendered by a different card.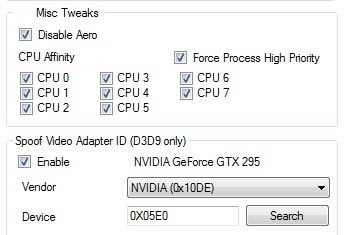 Compatibility Profiles
RadeonPro can help better compatibility with some games that become unstable after a driver update by forcing the game to use a different version of D3D/OpenGL driver parts.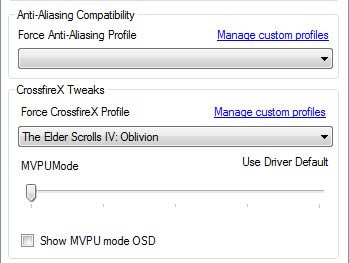 Script Automation
Scripts in RadeonPro can serve to automate tasks like overclocking your card right after you start a game, or to load a Catalyst profile with definitions for Eyefinity.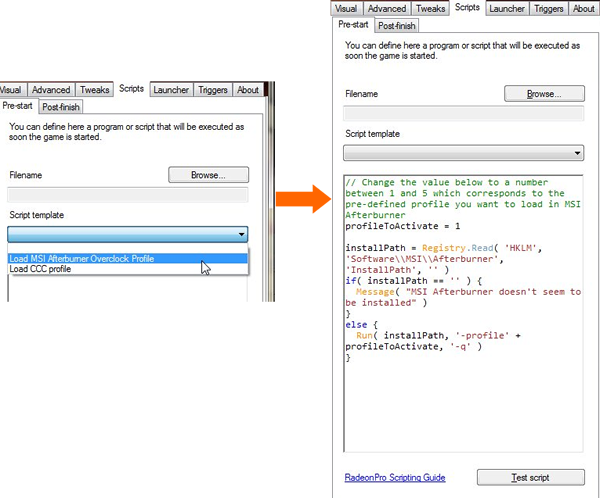 Interface Skins
The program interface can be changed with a few clicks.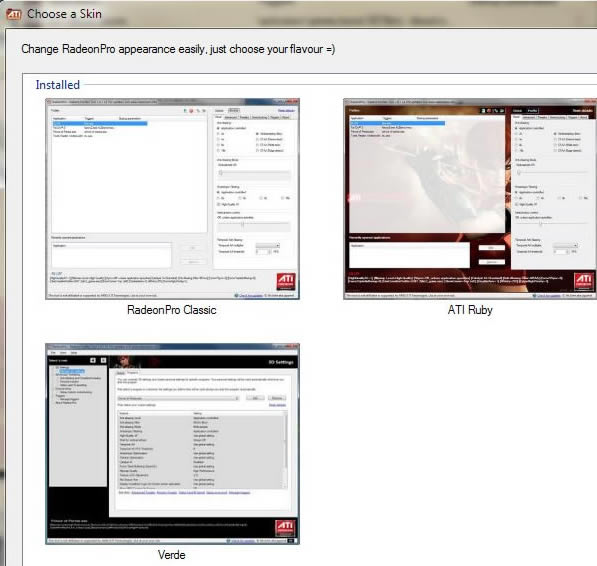 New Profile Wizard for easy profile creation
Getting Started
The New Profile Wizard helps you to create game profiles in an intuitive, step-by-step guide.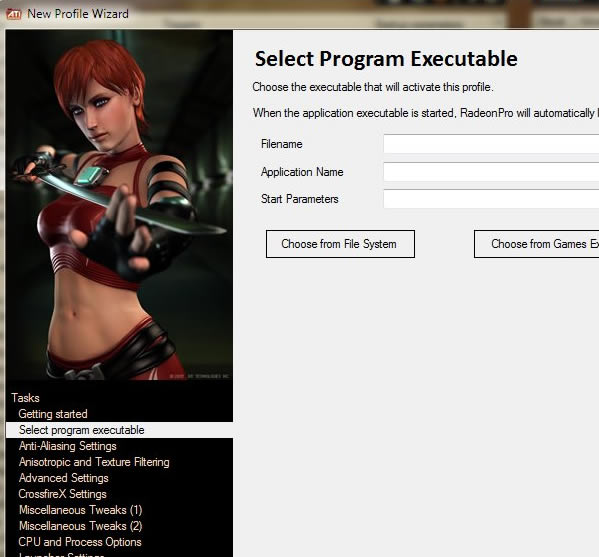 Choose Game
Choose the game from your hard drive, Windows Games Explorer or Steam Games Library.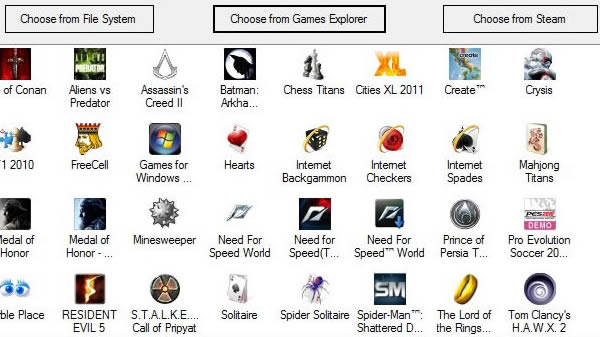 Settings
Each setting is explained so you can get the most from your video card.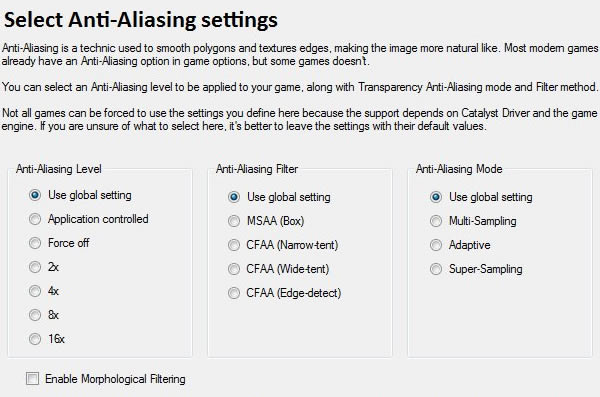 Advanced Settings
The Wizard allows you to set some advanced driver settings and RadeonPro's exclusive features like the CrossfireX bar (for mult-GPU equipped systems), or to show a cool new AMD Radeon logo on screen.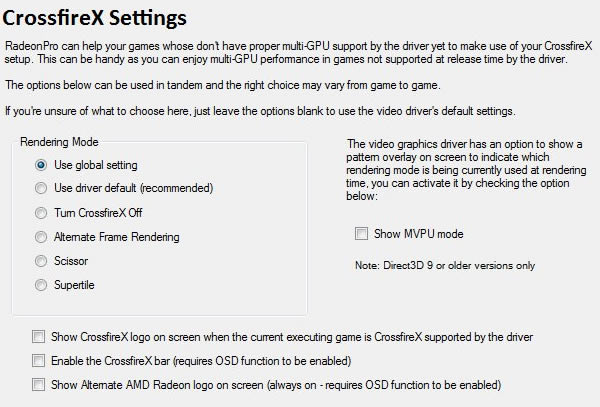 Profile Summary
Review your profile settings and make changes if needed, then save when you're done. Every time you start the game defined in the profile, all settings will be applied automatically.